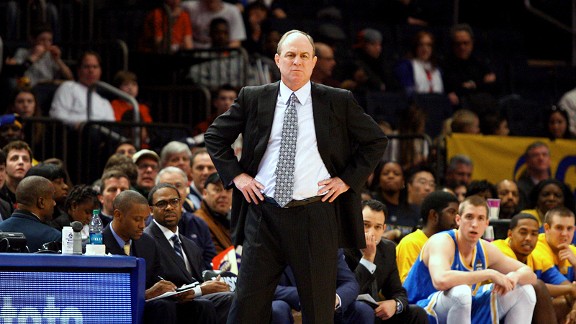 UCLA Head Coach Ben Howland
When you go 19-14 at UCLA, you're going to feel the pressure.
When you miss the NCAA tournament two out of the last three years, there's a red hot flame under your chair.
Ben Howland took the Bruins to three straight final fours from 2005-2007, and six total NCAA tournaments in the last eight years, but UCLA is a unique place. UCLA is unique in that it is only one of two schools, Kentucky being the other, that does not hang banners for final fours. There are too many national championship banners.
When it comes to the school, the basketball tradition, the support from the alumni, the success of former players in the pros, and now the facilities, everything is in place for UCLA basketball to be in the national title discussion year in and year out, and there's no reason to shoot for less. This is one of the premier programs in America, and 43 losses and a lone second round exit in the last three years isn't acceptable for a place that lost 26 games from 2005-2009 and made three final fours.
Last year was just the perfect storm. Tyler Honeycutt and Malcolm Lee left for the pros, leaving UCLA with a gaping void in its backcourt, so bad that David Wear was forced to play significant time at small forward. Center Josh Smith was home for the entire summer, and came back overweight and out of shape, ending whatever momentum he created in his freshman campaign. UCLA had no real shooters, no real go-to scoring option, and didn't have anywhere near the personnel or depth to play Howland's famed man to man defense. Jeremie Anderson stole a laptop, leaving him temporarily suspended (although he returned shortly after). The two early losses then just about ended the season when it barely started, while the Reeves Nelson fiasco and the Sports Illustrated article were just salt in the wound.
To put things in perspective, how different was last year than the year before? And how different was the year before that? Yes, the losing season in '09 was a disaster, and a 19-14 season at UCLA is unacceptable, but so is 23-11 and a second round exit. The bar is set at an unreasonably high level at UCLA, Kentucky, North Carolina, Duke, Kansas, Indiana, and a few other select places. And that's part of being an elite program; it shouldn't take much to jump right back to the top.
College Basketball is just a funny game. All it takes is a few new faces, and you're right back in the spotlight. Somehow, someway, UCLA leveraged its way to land ESPN's #1 recruiting class in the country.
It all started with Jordan Adams, a former disciple of now Bruin coach Korey McCray, and then the first big jewel in Kyle Anderson. McCray and Anderson would be used once again, as UCLA landed coveted recruit Shabazz Muhammad. Together, Muhammad and Anderson continued to vehemently recruit fellow blue-chipper Tony Parker. Along with Muhammad and Anderson, Coach McCray helped bring the talented Atlanta native to Westwood - forging one of the most talented recruiting classes to come through UCLA in Howland's tenure.
Just like that, with two top 5 players, three 5 stars, and four top 75 players, the Bruins were back on the map. Howland had gotten his break. And now its time to show what he's made of.
For all of Howland's flaws, be it personnel mismanagement or recruiting, nobody ever dared bringing up coaching as one of them. Ben Howland has made a living out of bringing the best out of players that were committed to both him and his system - anywhere from Jordan Farmar, to Darren Collison, to Russell Westbrook, Kevin Love, Luc Richard Mbah Moute, or even Ryan Hollins and Alfred Aboya. When the players have bought in, few coaches have been better when it comes to building tough defenses, efficient offenses, and smart overall basketball teams. Yes, Howland did deserve to come back to show once and for all that he can lead the Bruins with the right talent in place.
The consensus if you ask those close to the program is that after the final four losses, Howland believed he needed flashier players, similar to the Memphis', Florida's, and Carolina's of the world that would consistently beat his Bruins late in the March and/or end up winning the whole thing. He then went out and took some over hyped kids based on their athleticism and raw abilities, believing he could coach them into his system. The belief some say is in the end, he'd have ended up having same system, same philosophy, just a greater crop of athlete and more explosiveness. What came next is well documented. The kids brought bigger egos than the size of Pauley itself, brought a me-first mentality, and in the end, after the final four talent departed to the NBA, Howland found himself with a team filled with divide and lac of discipline. Because of this Howland couldn't recruit with the best, and no longer could provide the relief and depth that his team's needed, and when striking out on the Ray McCallum's and Quinn Cook's of the world, there wasn't a plan B. Now Howland sits once again, with an elite recruiting class that has the potential to take UCLA back to where it belongs.
The difference this time? This seems to be a more business-like group, one that wants to win, and nothing else. Shabazz seems to be a natural leader, while Kyle looks very calm and composed. Jordan Adams is a team player, while Parker is eager to learn and improve in whatever role he gets this season. This team meshes much better than any of the previous few years. Howland meanwhile has seemed to acknowledge the mistakes he made, and is looking to hold himself and the entire program more accountable. The talent is back. The facilities are now in tip top shape, and the games are back home on campus. Now there are no excuses. There's no reason a top flight coaching staff shouldn't be able to walk into any gym with this group, and have immediate success.
Or is there? Just when everything was all set to sail for UCLA, along came the NCAA. Investigations in to the Bruins' two best players, Shabazz Muhammad and Kyle Anderson, have left a big gloomy cloud over the team. The purpose of this class was to build more overall explosiveness, depth, and discipline on and off the court, and without those two, UCLA may find itself right back where it was last fall: lots of front court players, very few back court bodies, and a team just not suited for Coach Howland's style of basketball. Anderson is expected to be cleared, but without Muhammad, the Bruins don't look to be in the elite category. Its just been a rough few years for UCLA, who just don't seem to be getting any breaks. Unfortunately for Howland, however this situation turns out, he'll need to deliver, or he'll soon be the nations most successful unemployed coach.
What to watch in the back court:
Scoring. This has been missing very dearly for the Bruins for quite some time. This might be the best offensive back court Howland has had, and that includes the final four teams. If the NCAA thing works out, Shabazz Muhammad will give the Bruins a scoring threat every time he has the ball, while Kyle Anderson is another dynamic play maker and distributor that will find players in good spots and score some on his own as well. Larry Drew II is as quick a guard as there is, Tyler Lamb is a veteran who has gained more confidence as time has gone on, and Norman Powell has improved his jump-shot and as long as he stays within his skill set, he will provide a huge boost for this new-look Bruin team. Throw in a sharp shooter in Jordan Adams, and good luck defending this group. There is no reason that 70+ points shouldn't be the norm.
What to watch in the front court:
The center rotation. David and Travis Wear are solid players that when surrounded by dynamic playmakers will make very good second and mostly third options, but for UCLA to be truly special, the might of the front court will have to come from the centers. Joshua Smith is living, breathing talent, while the addition of Tony Parker will help provide some valuable depth and production. The problem with Smith is well known, as his potential is about the size of himself, literally. Shabazz could be the top selection in the NBA draft next year, while Kyle will eventually be a high lottery pick himself. Smith, if he really wants it, can be better than both of them. Its not as much about the weight as it is just being in condition. Smith doesn't need to get down to 280 or any magical number as people might think, but he'll have to be able to run up and down the floor with consistency and move his feet on defense. This time however if Smith doesn't deliver, there's a backup plan. Tony Parker may be a lottery selection himself some day, and the coaches won't hesitate to give him significant time if the big fella shows up with a pizza box in his hand.
Best Overall Player:
Shabazz Muhammad, Fr., SG. If all the eligibility problems are solved, there's no reason Muhammad shouldn't be one of the best players in the country. He has all the tools you wan't in a guard. He's a good shooter, great in transition, and can attack the hoop. On the defensive end, he has a Ferrari like motor and a heart that jumps out of his chest. There's a reason that people were saying that in last years class, only Muhammad was the NBA ready player out of high school. Keep an eye out on Redshirt Junior Travis Wear too, the veteran forward has continued to improve his game, his range is deep and his motor is well-tuned - he will be one of the leaders of this team.
The Schedule:
Who's idea
was
this
?
The NCAA bugs better get out of the way soon. After the legends classic opener with Georgetown, UCLA gets a potential date with #1 Indiana. Then there's a big date with a San Diego State program that has argued that its now the premier program in the west. Throw in a trip to Texas, who should be improved, Missouri at home, and a tougher than you think Long Beach State squad, and this might be one of the toughest non-conference schedules in the country. Meanwhile, the PAC 12 should be much improved. Fortunately, it still shouldn't be up to sniff.
Cal and Stanford will be improved, and some say the Bears could be a sleeper, but it doesn't have near the talent of the Bruins. Washington doesn't look to be any big deal this year, while Wazzu looks again to be a good but not tourney level team. Oregon has the chance to become better with enhanced recruiting efforts over the last couple years, but still might belong in the group of Cal, Washington, and Wazzu. Arizona is Arizona, but if the Bruins earn a split against the Wildcats, it should have a good chance at winning the conference. Meanwhile, Oregon State, Colorado, Utah, USC, and Arizona State are Oregon State, Colorado, Utah, USC, and Arizona State. There really is no excuse to not earn a top-two seed in the conference tourney and/or win the regular season crown.
The Goal for the Season:
Win the PAC 12, get a top three seed in the west regional (though if Shabazz is eligible, the top seed should really be the goal), and make it to at least the Elite 8. Once you enter the Elite 8, everything is a crap shoot, and anybody can win, so that's why the bar isn't at the final four. That said, if all the eligibility issues clear, there is no team in the country this crop of Bruins can't beat. That includes Kentucky, that includes Indiana, that includes anybody. If the right coaching and scheming is done, there is NBA talent on top of NBA talent all over the roster, and there's no reason UCLA shouldn't enter March as a legitimate national title contender. There's no reason, again if the eligibility issues are cleared, and injuries are avoided, that UCLA shouldn't be able to win the conference. Yeah, Arizona will likely be great, but this is UCLA, and they are not supposed to take a back seat to anyone. Anything less will be a major disappointment and could warrant a change of the guard next season in Westwood.