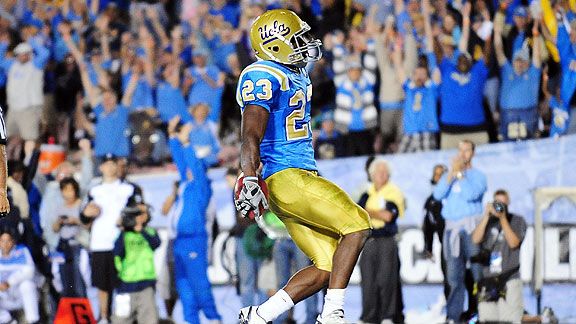 UCLA RB Johnathan Franklin
It just doesn't make sense.
UCLA is a brand name, one that's recognized across the country. The campus is second to none, it's a premier academic institution, the school has a history of winning football, and most importantly, it is located in Los Angeles, CA. Considering the fertile recruiting ground, even if you collected USC's leftovers, you should be able to produce a decent team.
The Rick Neuheisel era, to put it nicely, was a mess, but the man was successful everywhere else he went. In addition to this, Norm Chow is one of the most revered names in football with three Heisman trophy quarterbacks and three national championships. So why was UCLA so bad at playing football?
How was it that two renowned quarterback guru's couldn't produce one single entity that could throw a forward pass?
It just didn't work out, this happens in college football sometimes. But forget all that, it's a critical time now for UCLA football.
The Pac 12 is much tougher than it was when either Dorrell or Neuheisel started blowing whistles, and the Bruins have fallen way behind. Oregon and Stanford are now names to be reckoned with nationally; Arizona and Washington State just hired real head coaches, and Washington is a budding star under Steve Sarkesian. Oh yeah, and USC is the preseason #1. The Bruins need a proven winner, the closest thing to a sure fire success in order to lead the program to success.
So did UCLA go out and get an all-star that would almost certainly close the gap with the likes of USC and Oregon? No, it got Jim Mora Jr.
Instead, what fans received was a public disaster disguised as a coaching search. After the fan base saw Chris Petersen, Kevin Sumlin, and Al Golden turn the job down, UCLA settled on Jim Mora Jr. The former Falcons and Seahawks coach was first seen as an NFL outcast who gave little reason to believe success was coming. Then, Mora Jr. went and hired a tremendous staff with the likes of offensive coordinator Noel Mazone, former non-BCS recruiter of the year Adrian Klemm, recruited the #12 rated recruiting class according to Scout.com, and all of a sudden, a small buzz is back across the program.
Remember, coaching hires are never sure things, and nobody is ever quite sure how the studs became the studs. Nick Saban had but one big season at Michigan State before becoming a superstar at LSU, and now the college version of Bill Bellichick at Alabama. Les Miles went a meager 28-21 at Oklahoma State before becoming the formiddable football coach he is today. And God forbid, Gene Chizik of all people won a national championship after going 5-19 at Iowa State.
Then there's the comparison that all Bruin fans like to talk about.


Pete Carroll was considered by many to be an awful hire by USC. By most outlets, he was the school's third choice behind Mike Riley and Dennis Erickson. Carroll was considered at the time a failure in the NFL, and brought no warm feelings to Trojan fans anywhere. 11 years later, we all know how that turned out.
UCLA fans are hoping Mora will be their version of Carroll (minus the cheating). Fans must remember that Pete Carroll's don't grow on trees, however his success can bring relief to the idea that Mora could make this thing work. There's a new culture around the football program now, one of more toughness and accountability, both traits that any football following student at UCLA will tell you was lacking. He seems to be the kind of guy that would succeed at the college level with a charismatic personality, the kind of guy that could go into a living room and convince a kid that UCLA was the place for him.
Patience however will be a must for Bruin fans. You don't go from mediocrity to the top of the conference overnight; but this time, the transition could be smoother than people think. It's the dirty little secret that nobody nationally really knows: the cupboard isn't that bare.
While Neuheisel had his flaws, recruiting wasn't one of them. His first three classes were all ranked in the top ten. A slew of athletes are available across the board, especially on defense. The defensive line is filled with underachieving yet talented players, the linebacking core is filled with veterans, and the secondary has a slew of options that just need to get their confidence back. Yes, with the right mix of coaching and recruiting, UCLA really could be the sleeping giant Mora was referring to when he took this job.
What needs to be better on offense? The forward pass. This really is a culmination of a lot of things. The offensive line has been butchered by injuries and departures over the last four years and hasn't really given the quarterbacks a chance. When they do have a chance, they are often poor decision makers who still can't seem to consistently deliver the ball with precision. And often times when the quarterbacks do put the ball on the money, the wide receivers fail to hold up their end of the bargain: catching the ball. Whatever it is, UCLA cannot compete at a high level without any threat of a passing game. Granted last year was a big step forward, you and ten ex-girlfriends could have stopped the 2010 Bruins passing attack, but when a big step forward means 81st nationally in passing yards, you know there are major issues to be addressed. The good news, the only way to go, even after a big improvement, is up.
What needs to improve on defense? A pass rush. Any pass rush. Long gone are the days when Bruin fans could count on the likes of Bruce Davis and Brian Price to consistently wreak havoc on opposing quarterbacks. The defensive line has to be the most underachieving group on the entire squad, and it's not even close. The group is filled with former blue chippers such as Datone Jones, Owamagbe Odighizuwa, Cassius Marsh, Kennan Graham, and now finally, Brandon Willis. The Bruin defense has continuously given opposing passers 10 days or more at a time, garnering a pathetic fourteen sacks on the season, with only nine actually coming from the defensive line. UCLA has been awful on 3rd downs, consistently giving up 3rd and longs, finishing 105th nationally in 3rd down defense. In a league featuring the likes of Keith Price, Matt Barkley, and Oregon's next plug and play qb in Marcus Mariota, a pass rush almost becomes a requirement for a team whose glaring weakness is at the quarterback position.
The Schedule
At least the team should start 1-0 this year.
This year's schedule sets up a potential good start for the Jim Mora Jr. era. Rice, even for UCLA, is a cupcake game, setting up a big showdown in the Rose Bowl for a possible tone setting game against what is a very beatable Nebraska team. Houston doesn't look like the same Houston we have seen in the past couple of years, but could still be dangerous. The conference slate is where things get fun though.
Once again, the Bruins will miss Oregon from the North, giving them as easy of a conference schedule as you could ask for. The three hardest conference games are Utah, USC, and Stanford, and they all come to Pasadena. Arizona is going through a coaching change, and Rich Rodriguez offenses traditionally struggle mightily in year one. The other home game against Oregon State is against Oregon State. Four road games in six weeks isn't fun, but when three of the games are against a very beatable Washington State team, a rebuilding Arizona State team, and a Colorado team that's a Colorado team, it's not all that bad.
Best Player on Offense? Jonathan Franklin. One of the nation's best kept secrets, Franklin has quietly run for 2103 yards over the past two seasons. While ball security has been an issue over Franklin's career, you can't help but applaud the "Jet Ski's" efforts over the past two years running behind an awful offensive line for a team with no semblance of a forward pass. The switch to Noel Mazzone's air raid, spread attack might hurt, but it should be okay. Franklin will once again likely have to carry the Bruin attack until Brett Hundley and co. come around in the passing game.
Best Player on Defense? Tevin McDonald. Until Datone Jones decides to show up, this honor will belong to Tevin McDonald, one of the fastest rising safety prospects in the country. The brother of Trojan star TJ McDonald, Tevin will be doing his best to build a legacy of his own across town. After a solid freshman campaign that ended with freshman All-American honors by several media outlets, McDonald will have to take his game to another level now and become a leader, hopefully along with Jones, of the Bruin Defense. McDonald finished with 3 interceptions, 56 tackles, and 4.5 tackles for a loss over just seven starts in what was a good stepping stone of a freshman season.
The goal for the season: Finish in the upper half of the conference with a winning record. Come into the USC game with a chance to take the lead in the South, and look like a good football team to finish the season. Let's just get this out of the way: USC is better than UCLA, and it's not even close. Talk about how the Bruins have been able to recruit all you want, USC has too, just better, and unlike the Bruins, their blue chippers are actually good at playing football. The focus this year shouldn't be about closing the gap with USC, not yet. For now, the Bruins have yet to close the gap with Washington, Cal, Stanford, and Utah. Of course USC is always the biggest game on the schedule, but for right now, just giving themselves a chance against the Trojans is a good start. If blowouts against Troy are still the norm next year, it'll be time to worry. The conference slate sets up well enough that the Bruins should have a chance to go into the USC game with 2 conference losses or less. Then it's one game to take the South lead, it's a rivalry game, and anything can happen. Of course having Stanford after USC this year isn't ideal, but if UCLA can make it to that part of the schedule in decent shape and give itself a chance in the final two games, and win a bowl, they will have begun their ascension through the conference ladder. Outside of USC, there isn't a team on the slate that's head and shoulders better than these Bruins, and there isn't a team they can't beat.
The key game besides USC: Oct. 6th at California. The Nebraska game is big because a win could mean a 5-0 start, but Cal is a conference opponent that has often signaled the mid-season slump for the Bruins. A win over the bears would mean a likely 3-0 start in conference play setting up a huge showdown against Utah at the Rose Bowl the next week for a strong position in the South. A loss would be a huge blow for the Bruins with Utah, USC, and Stanford still to follow.